4am in New Zealand and here I am attending this virtual event to "be the first to experience new Dynamics 365 and Microsoft Power Platform capabilities".
It is facinating to see all presenters from their home offices as pointed out by Business Applications president James Phillips.
Top 3 new features announcements
Customer Insight:

Real time data ingestion
Enhanced AI + ML integration
Data enrichment

Customer Engagement Marketing, Sales, and Service

Enhanced customer journey designer, and new onmi-channel channels
Omni-channel support

Power Platform:

Mix Reality in Canvas App
Embed Power Apps with Teams
Single mobile app for Canvas and Model Driven Apps
PVA new capabilities
Power Automate Robotic Process Automation RPA
The Details
James Phillips introduction
Proud of how many have stepped up to help customer, communities in this time of need using Power Platform technologies.
Relaxing the deadlines (e.g. deprecated features and taking new features)
Northwell healthcare use case using Healthcare 360 D365, Power Apps, CDS, and AI BOT capability.
Unicef NFP. Engage with donors view their holistic history using Customer Insight and Marketing App for campaign automation. (+video)
97% Fortune 500 organisations use the Power Platform, 54% use Dynamics 365
Data and telemetry > anomaly detection model > proactive action
The full picture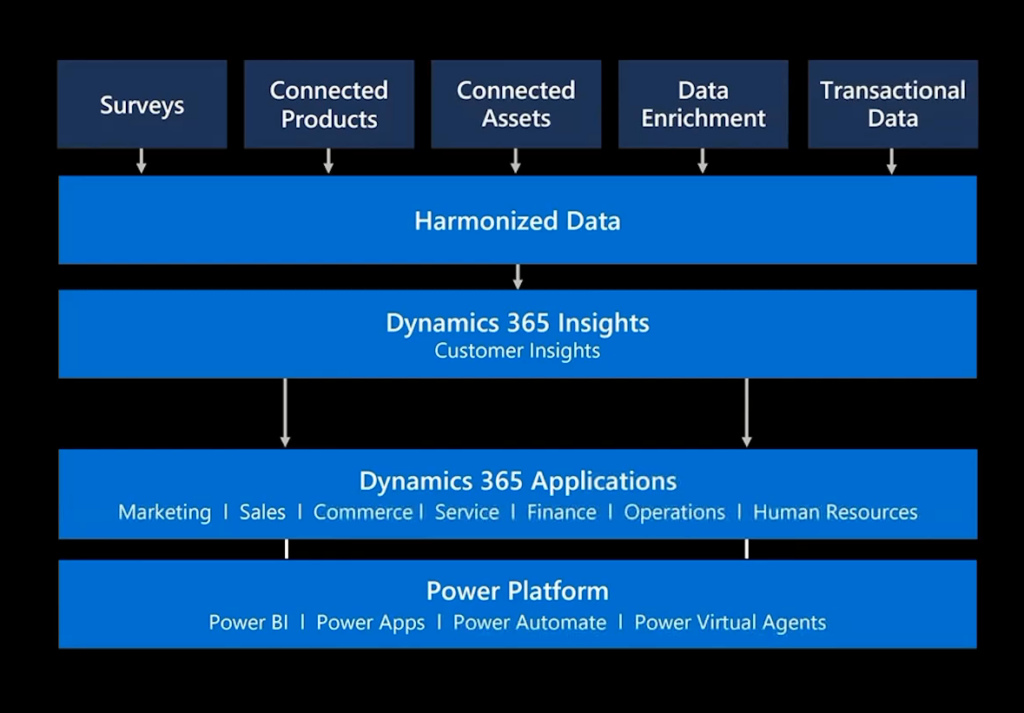 Satish Thomas Customer Insight CDP Customer Data Platform
Customer Insight Real-time data ingestion
Out of the box AI platform – next best action
Data Enrichment
Limitless analytics for AI and ML models
Chipotle Mexican Grill user case
Unified information about the customer + Enrich with Microsoft Graph + Additional Insight
Creating Customer Segmentations and Action them with out of the box connectors 1st and 3rd party apps.
Oren Ryngler Customer Engagement Marketing, Sales, and Service
Predictive forecasting with AI
Sales Hub to focus on customers: best channels to contact customer.
Data coming from Sales and Marketing apps to provide a comprehensive history view
Enhanced customer journey designer in Marketing
Omini-Channel Support: Twitter, WhatsApp, Twillio
Ryan Darby Martin HP Demo
Muhammad Alam Commerce , Finance Operations, and HR
Lydia Williams Dr Martens Demo
Kevin Horlock Eaton Customer Demo
Charles Lamanna Power Platform
Mix Reality Canvas App component for 3D assets
Power Appas embedded in Teams
Single Mobile app for Canvas and Model Driven including offline capability
Testing and debugging tools to understand network traffics and test
Enhanced PVA with Visual Experience to model bots
Power Autpmate Flow UI with Keyboard and Mouse replay
Introducing App monitoring and debuging
gsk demo new Custom Components in Power Apps
GA AI Builder with hand writing recognition
Bot integration with Teams
Arun Ulag Power BI
Rami Mounla